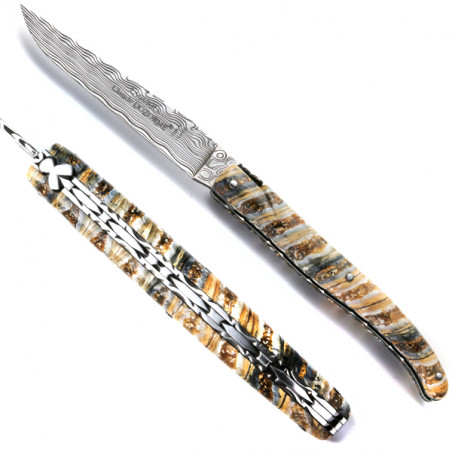  
Mammoth tooth Laguiole Damascus knife - molar
The ultimates, the top of french Laguiole knife. Fossil Mammoth tooth - molar - from Alaska or Sibéria. Damascus blade.
Guaranteed old-fashioned hand-made by our cutler, qualified Master Craftsman.
Comes with numbered certificate of authenticity
Each model is unique.
100% secure payments
The handle is made tooth fossil mammouth from Siberia or Alaska. Fossils come from melting glaciers and take the ocher color of mineral oxides.
Mammoth fossil molar - tooth - handle Laguiole knife
Damascus steel blade
8 mm thick per plate.
Open length: 22cm (12 cm closed) – 125gr
Blade: Swedish twisted stainless Damascus steel, 160 layers, long-lasting, inlaid in the metal structure
Hardness: 56 HRC
Spring: fitted with a blade-stop and the solid Laguiole bee, hammer forged and fully hand-chased (guilloched). 3 mm thick stainless steel, tempered and polished interior
Plates and bolsters: solid stainless steel - 1.2 mm thick
Finishing and polishing: plates, blade, interior spring fully chased and matt polished.

no

engraving possible
Presentation: delivered with wooden presentation giftbox
It is not possible to engrave a Damascus steel blade mammoth
Quality :Made the old, all our blades are fine millstone sharpened by a qualified cutler. The quality of the steel, the triangular grinding and the polishing will make it easier for you to keep your knives sharp and ensure that they continue to cut true.

The springs and blades are put in a kiln heated to over 1,000°, before being rapidly cooled. Depending on the part (spring, blade, etc.) and its makeup (carbon steel, stainless steel), the tempering varies (temperature, oil / water / air, etc.). 

The tempered parts (here the springs) are plunged into an oil bath in order to give them strength and flexibility. The blades are then "marbled/billées", controlling the hardness expressed on the Rockwell scale (HRC).

Our Swedish 12C27 Sandvik stainless steel blades have a hardness of 56 HRC.

All our springs are forged and chased ("guilloched") with a file in a vice. They all have a blade-stop.

All the bees are filed twice: before assembly and before the quality control stage.

All our blades are very carefully ground and polished twice with buffalo hide by professionals: this guarantees outstanding quality and a fine cutting edge for you.

The LAGUIOLE added extra: express after-sales service - secure delivery - numbered certificate of authenticity
LAGUIOLE knife handmade guarantee, with certificate of authenticity - LAGUIOLE Collection - Handmade - Handcrafted in Auvergne.
These Laguiole knives, handcrafted, have been producing since the 1920s, are available to you in a wide range of prestigious, precious and elegant woods. These bespoke creations represent the result of meticulous work.

Delivered with certificate of guarantee and authenticity.
Data sheet
Extended length

21,5cm

Compositions

Lame : acier Damas suédois inoxydable et torsadé 160 couches durables dans le temps

Origin

Handmade products made in France

Handle material

Ivory/mammoth

Blade

Damascus