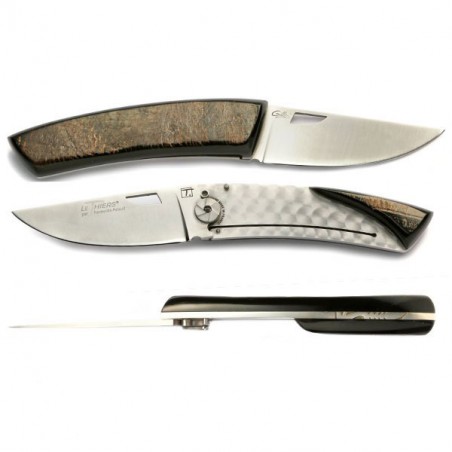  
Couteau Régional THIERS, manche en buffle brut
Couteau Régional de Caractère THIERS, de fabrication française et artisanale, à manche en bouleau, à ouverture facile!
garanti fait main à l'ancienne par notre coutelier Fontenille Pataud, depuis 1920 Maître Artisan diplômé
Fabriqué à l'ancienne, CHAQUE MODELE est UNIQUE, poinçonné et numéroté, livré avec certificat d'authenticité
Product customization
Don't forget to save your customization to be able to add to cart
100% secure payments
Le Thiers-Bambou

Nous avons conçu ce couteau ultra léger qui réunit High-Tech et méthodes traditionnelles. Ouverture et fermeture faciles à une seule main. Fabrication artisanale à Thiers garantie par la Jurande.
Couteau Laguiole - manche en bouleau
Epaisseur 8 mm par plaquette.
Longueur déployé : 20 cm (12 cm fermé)
Lame : acier inoxydable suédois 12C27 ép 3 mm au talon
Dureté : 56 Hrc
livré avec un étui en peau de chamois

DISPONIBLE sous 48H

Nos conseils - entretien - Qualité produit
Fabriquées à l'ancienne, nos productions totalement artisanales sont des rares à garantir une abeille et un ressort forgés dans la masse (et non soudés), ce qui confère un meilleur équilibre, et une excellente tenue dans la main.La qualité de l'acier, du meulage triangulaire et du polissage facilitera l'affutage et prolongera la tenue de coupe.Les ressorts et les lames passent dans un four chauffé à plus de 1000° , avant d'être refroidis brutalement. Selon la nature de la pièce (ressort , lame ...) et sa composition (acier au carbone , acier inoxydable) la trempe est differente (température , huile/eau /air...)Les pièces trempées (ici des ressorts) sont précipitées dans un bain d'huile afin de leur donner force et souplesse. Les lames sont ensuite "billées" : on contrôle la dureté exprimée en Rockwell (HRC)Nos lames en acier inoxydable Suedois Sandvik 12C27 ont une dureté de 56 HRC.Tous nos ressorts sont forgés, et ciselés ("guillochés") à la lime sur l'étau . Ils ont tous une butée de lame. Toutes nos lames sont affutées à la meule fine par un coutelier qualifié..
 Le Plus LAGUIOLE: SAV express - livraison sécurisée - certificat d'authenticité numéroté
 LAGUIOLE garanti fait main, avec certificat d'authenticité :
LAGUIOLE Caractère Régional- Fait Main - Fabrication artisanale.
 Nos Couteaux Laguiole de fabrication artisanale Fontenille Pataud depuis les années 1920 vous sont proposés dans une multitude de bois prestigieux, précieux et élégants. Ils sont le fruit d'un travail minutieux à façon.
Nous pouvons également les personnaliser en gravant votre nom ou message, etc... Si vous souhaitez d'autres versions de couteaux Laguiole à manche bois, corne ou autres matériaux nobles ou rares que vous ne trouvez pas sur notre site, ou options avec tire-bouchon, contactez-nous par téléphone au 0810.410.120 aux heures de bureau - coût d'un appel local.
Livré avec certificat de garantie et d'authenticité numéroté.
Data sheet
Extended length

21,5cm

Compositions

swedish stainless steel blade 12c27, thickness 3mm at the heel

Presentation:

delivered with chamois leather pouch

Origin

Handmade products made in France

Handle material

Ivory/mammoth

Blade

Traditional
Specific References
EAN13

3700562715486
Back



Your personalized product
 ADD TO CART
Please fill in the engraving text area to activate the button
**Rappel : Délai de fabrication 3 semaines
Couteau Régional THIERS, manche en buffle brut