Perhaps you've already decided on the menu for your Christmas meal, but have you thought about the decoration? Whether it's for the Christmas Eve on the 24th, the 25th, or even New Year's Eve on the 31st, what's on the plate is just as important as what's around it. Here are some tips to create a beautiful Christmas table for your guests.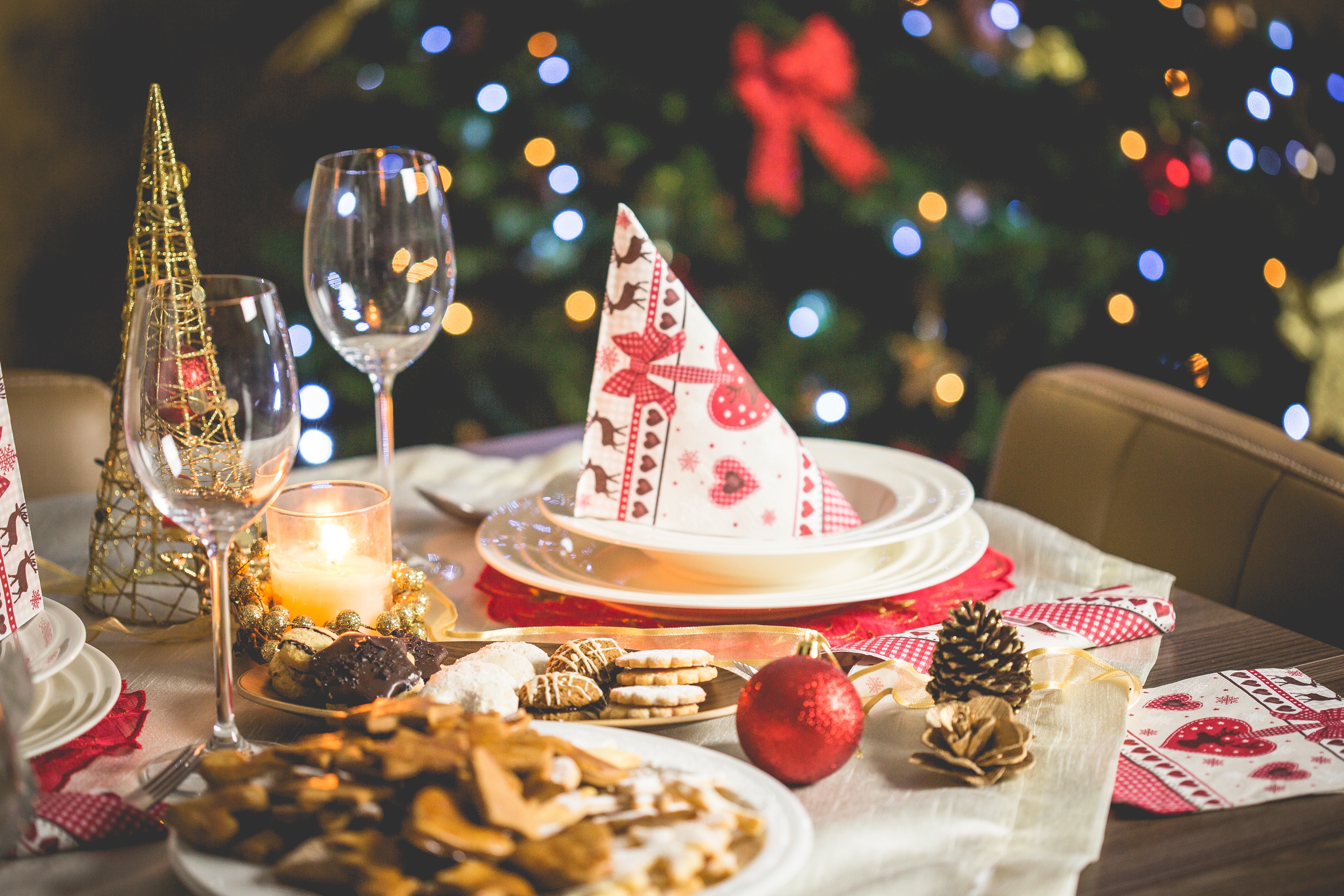 Choosing the Color
Whether you're a fan of a traditional Christmas or looking for some originality, the choice of colors is crucial in guiding your decoration. Red, green, and white are the colors most associated with the Christmas season, but this doesn't stop you from breaking the norms and mixing these colors to your liking. Here are some ideas:
Red
It's a classic choice for this tradition, symbolizing Santa Claus's red suit. It's a vibrant and warm color, perfectly in tune with the atmosphere of a Christmas meal. To stick to tradition, it pairs well with white, but you can also combine it with gold or silver. If you find red too common, why not opt for burgundy? It's similar while offering a slight twist to tradition.
Green
Here, it's all about inviting nature to your table. Your Christmas tree doesn't have a monopoly on green; it has its place on the table too. For a 100% natural ambiance, choose a white or ecru tablecloth, scatter some green touches with fir branches, holly... Accompany this with a few pinecones, and you're all set. This is a cool color, so you can also enhance the tones with gold or silver.
White
A predominance of white gives a polar spirit to your decoration. It evokes snow, the cold of winter, and creates an atmosphere that makes you want to warm up with delicious dishes and a fireplace! It's versatile and pairs with absolutely everything—black, red, green, silver, gold, blue... White offers great flexibility in your decoration choices.
Silver or Gold
Both of these colors lend a festive atmosphere to your table and decoration. You already find silver in your cutlery. Whether it's gold or silver, it's best to use them sparingly and incorporate them into the details of your decorative objects: mini trees, pinecones, Christmas ornaments... You can also sprinkle your white or colored tablecloth with golden and silver glitter. It guarantees an effect!
Think Outside the Box
No, red isn't mandatory for your holiday decoration. You can step outside tradition to create a unique decor. Soft pastel colors like blue or pink for a subtle blend of softness and color, a beautiful blue, or perhaps bold and vibrant colors: yellow, pink, purple, orange... Choose what suits you best.
However, be mindful not to exceed three different colors. Beyond that, it may be challenging to harmonize the overall look.
Choosing the Tablecloth
If you plan to focus on decorative elements, opt for a solid tablecloth. A patterned tablecloth is also an option, but be careful not to overcrowd your table. Depending on the colors you've chosen, you can have a tablecloth and a table runner in different shades, but avoid juxtaposing patterns. Match the colors of the tablecloth or runner with the decoration, plates, and napkins.
A Beautiful Centerpiece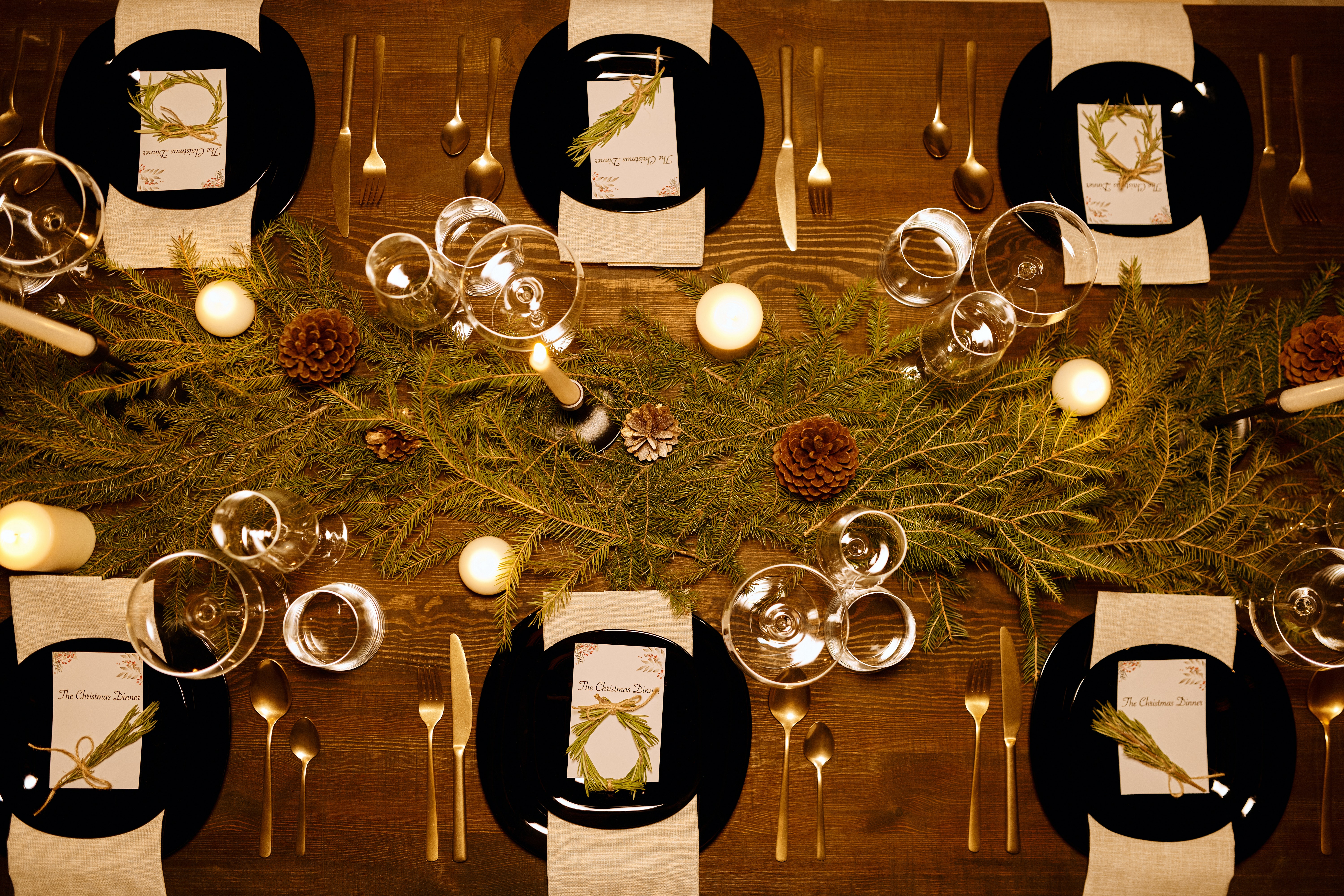 Here, all ideas are welcome. There are no rules; express your creativity. If you're not feeling inspired, you can visit a florist to enhance your table's center with lovely arrangements. Alternatively, you can create it yourself: floral arrangement, a candle holder, a pretty vase with Christmas ornaments, candles, string lights, or for the sweet tooth, go for a beautiful tray of homemade cookies to enjoy during dessert.
Show off Your Finest Tableware!
A beautiful Christmas table is nothing without its tableware! Dishes, plates, glasses, utensils – this is the perfect opportunity to showcase your finest set. Silverware is an excellent choice, but you can also use high-quality stainless steel cutlery that easily blends with the decor. If you've opted for a natural Christmas, you can choose cutlery with wooden handles. Match your cutlery with the colors you've chosen. At Laguiole Attitude, we offer artisanal cutlery in 16 different colors, perfect for a stylish presentation! For wine glasses, champagne flutes, and water glasses, opt for crystal to bring elegance to your table!
To showcase them, we recommend:
Three plates per guest: for the starter, main course, and dessert
For the utensils, place forks to the left of the plate and knives to the right with the blade facing inward. If you have multiple sets, the utensils used first should be farthest from the plate.
For the glasses, from left to right, you have the water glass, wine glass, and champagne flute, arranged in a row or staggered on a separate row.
Napkin Presentation
It's a detail, but it's essential, especially since you can use napkins to add real value to your decoration. If you use cloth napkins, you can tie them with a pretty ribbon or string in your decoration's colors. As for paper napkins, you can have fun folding them, providing a lovely activity and a decorative piece for your guests to place in the center of their plates.
A Small Gift for Your Guests!
Christmas is the time to give small tokens of appreciation. Why not use the meal as an opportunity to slip a little gift for each family member? Chocolate, candies, a nice card with a little message... it's sure to bring a smile to your guests' faces!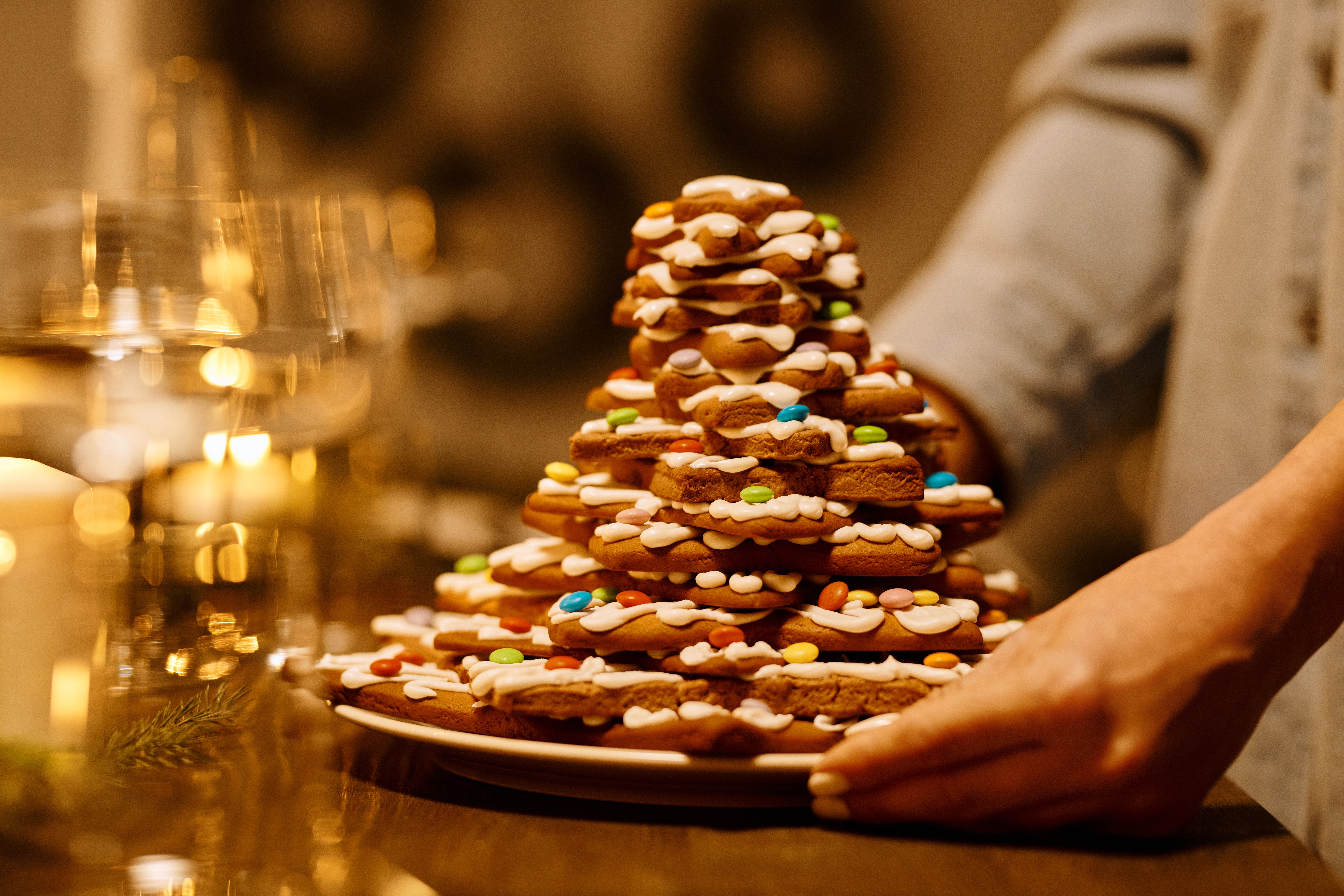 A Christmas Atmosphere
While table decoration plays a significant role, there are a thousand ways to create a cozy and pleasant Christmas atmosphere beyond the Christmas meal. Cook together, play games, play Christmas music, light a fire in the fireplace... everything to enjoy a wonderful holiday season with your family!