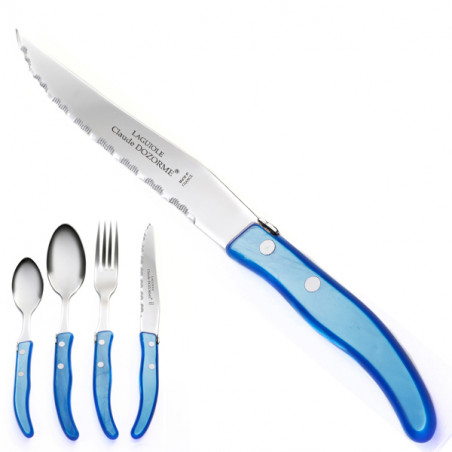  
Knife "colors of nature", azure . Made in France
Laguiole artisanal Handmade steak knife, "colors of nature", azure

crafted perfection, the "haute couture" of French cutlery.
100% secure payments
Around 40 stages in the workshop to achieve this optimum result, including laser cutting, sharpening, polishing, cross-hatching (chasing, steelwork), assembly... The ultimate expression of traditional French hand-crafted cutlery, making each item a unique model.
Knife "Colors of nature" Laguiole, azure


lg 21.5cm

ABS color handle

stainless steel knives exceptional ep 2.5 mm, shiny

incredible sharpness, easy sharpening

20 trendy Laguiole colors: black, anthracite, chocolate, cappuccino, lilac, purple, navy, azure, turquoise, meadow green, pale green, olive green, yellow, orange, red, burgundy, pink, baby, natural, white

.

FREE BOX for 6 cutlery bought to allow your assortment and your ideal storage
Available, in stock
Data sheet
Longueur

21.5cm

Origin

Handmade products made in France

Handle material

ABS

Blade

Micro-toothed

dishwasher

Yes