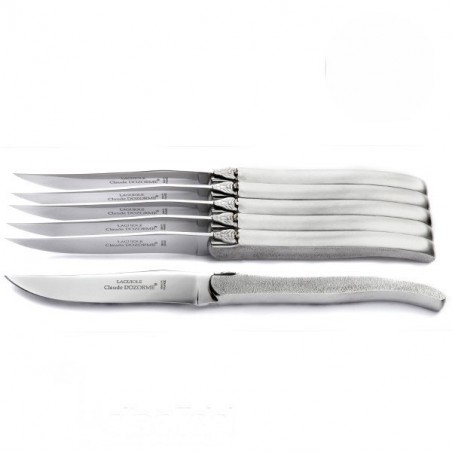  
Luxury boxed set of 6 solid forged gross stainless steel knives
6 authentic hand-made Laguiole solid forged gross stainless steel knives.
Dozorme* crafted perfection, extremely sharp knives.
Around 40 stages in the workshop to achieve this optimum result, including laser cutting, sharpening, polishing, cross-hatching (chasing, steelwork), assembly... The ultimate expression of traditional French hand-crafted cutlery, making each item a unique model.
Boxed set of 6 high-end Laguiole knives
Solid forged gross stainless steel
Outstanding quality steel (X50CrMoV15)
Guilloched back - hand-chased steel
Incredible sharpness
Easy sharpening
Machine re-polished bee
Wooden presentation box
 
Laguiole quality:

Guarantee
:
1 year blade and handle exclusively against production defects, excluding presentation box.

*A cutler since 1902, Dozorme was awarded the prestigious "Entreprise du patrimoine vivant" (living heritage business) label in 2009.
Our advice for the upkeep of your Laguiole products:
dishwasher.
Data sheet
Origin

Handmade products made in France

Options

knife box

Handle material

Stainless steel

Blade

smooth

dishwasher

Yes