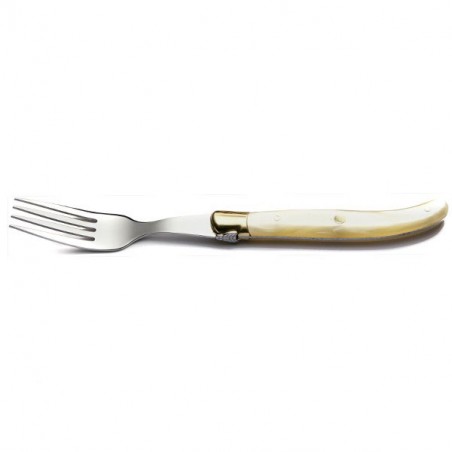  
1 natural Nacrine handle forks, single
1 hand-made Laguiole natural Nacrine handle forks, single. Crafted perfection, the "haute couture" of French cutlery.
Around 40 stages in the workshop to achieve this optimum result, including laser cutting, sharpening, polishing, cross-hatching (chasing, steelwork), assembly... The ultimate expression of traditional French hand-crafted cutlery, making each item a unique model
1 high-end Laguiole forks, single
lg 22cm
Natural Nacrine handle, pearly
brass bolsters
Outstanding quality steel forks
Machine re-polished bee
Guarantee
:
1 year blade and handle exclusively against production defects, excluding presentation box

*A cutler since 1902, Dozorme was awarded the prestigious "Entreprise du patrimoine vivant" (living heritage business) label in 2009.
dishwasher OK

Data sheet
Origin

Handmade products made in France

Options

a unity

Handle material

Nacrine

dishwasher

Yes