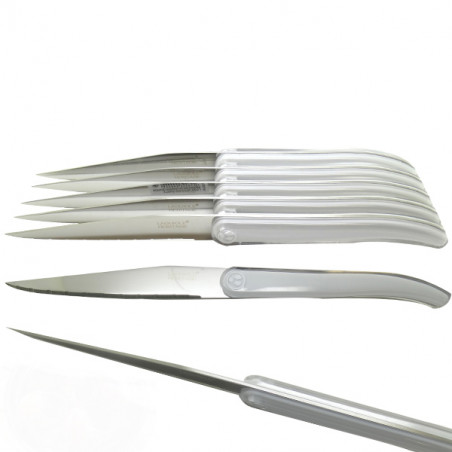  
boxed set of 6 Laguiole Cristal steak knives, white
Set of 6 white Laguiole Cristal steak knives in wooden box, for everyday use. Create atmosphere at your table, with elegant colours !
100% secure payments
These 6 Laguiole Cristal steak table knives, are presented in their wooden box.
ABS white,
polished gloss handle
Micro-toothed full tang tempered stainless steel blade (blade running through to the end of the handle) monobloc
Knives length 23cm
wooden box
This range is designed for everyday use, with a dishwasher-friendly guarantee.
Data sheet
Options

knife box

Handle material

ABS

Blade

Micro-toothed

dishwasher

Yes