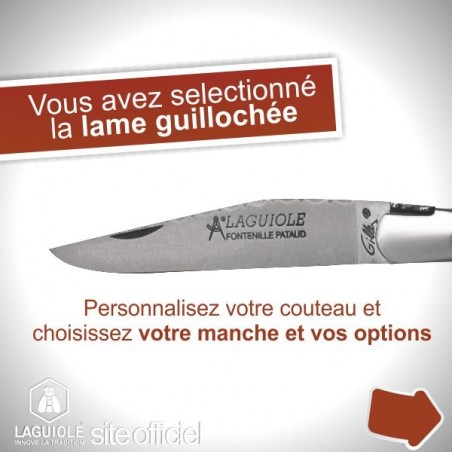  
Guilloche blade
Customise your Laguiole knife with the options of your choice: blade type, handle quality, length, corkscrew or not… You can also add a personal touch with a sterling steel 925/1000 ornament.
If the knife is planned as a gift, or if you want it to be extra special, add an engraving.
Price updates itself depending on your choices.
4 weeks production & delivery.
Traditional steel blade: 12C27 Swedish high quality stainless steel, 3mm width at the base of the spine – hardness 56 Hrc.
Guilloche blade: spine of the blade is hand crafted, in other words, the steel is chiselled by hand. 12C27 Swedish high quality stainless steel
Damascus blade: blade is worked by superimposing successive layers of steel and carbon. Each pattern (furrows on blade) is therefore unique. 12C27 steel. Same characteristics.
Corkscrew / safety catch : the "corkscrew" or "safety catch" options are not compatible with each other, it is therefore necessary to choose one or the other. Indeed, the mechanism necessary for the safety catch makes it impossible to add a corkscrew, because the spring needs to remain flexible from end to end. The safety catch is only useful for hunting purposes, but bear in mind your knife could be considered in some countries ad a weapon.
Knife length : the length of a "normal size" folding knife is around 21.5cm unfolded or 12cm folded (22cm and 12cm with a safety catch), the small knife is 18,5cm unfolded and 10.5cm folded.
Engraving on the handle, blade or handle + blade (machine engraving): type in your text in the box provided for this purpose
Special handmade engraving: engraving, guilloche and work made by hand on the spine of the handle, which demands the utmost care (see photo)
Sterling silver ornament: real 925/1000 sterling steel heads, punched and mounted on 1.2mm sterling stainless steel plates. Made by the silversmith Roux Marquiand. Provide without 'safety catch' option, incompatible
Tree species and noble materials handles:  All our woods are first choice, horns are full horns (not hollow), the ebony from Gagon, birch from Finland, ivory authorized by law, etc ... find their origin in descriptions of "Laguiole collector's knives made the old."
Sculpture handle:  Provide without 'safety catch' option. Twisted handle, carved:  They are carefully hand-carved: precision work and careful long that personalizes your knife a little more. The elegance and rarity for your knife. Scorpion tail handle, carved: Handle carefully hand-carved on the curved part that ends the round: a meticulous and precise work along that personalizes your knife a little more. The elegance and rarity for your knife.