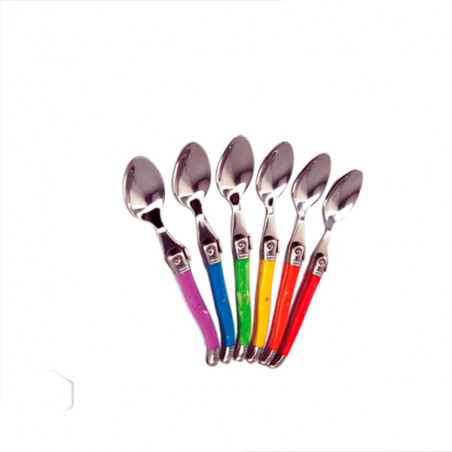  
Laguiole Ambiance 6 teaspoons, trendy multicolors
6 Laguiole teaspoons, Ambiance teaspoons. create atmosphere at your table with trendy mulicolors cutlery !
100% secure payments
These 6 Laguiole Ambiance table teaspoons - vibrant colors - are presented in their cardboard box set with display cover.
ABS handle
2 stainless steel bolsters and rivets
Multicolor handles: vibrant colors (yellow, blue, grenadine, green, orange, purple)
Spoon length: 15.5 cm
Cardboard presentation box
This range is designed for everyday use, with a dishwasher-friendly guarantee.
Data sheet
Options

knife box

Handle material

ABS

dishwasher

Yes